On Sunday, July 30, TUportal received a new login page and a new look.
On the July 29th weekend, TUportal was upgraded with following changes:
New Login Page
New Look
New Functionality
Instead of the TUportal page with the login screen at the top left, horizontal photo banner and current weather...
...you will see a Temple University login box with a campus photo in the background: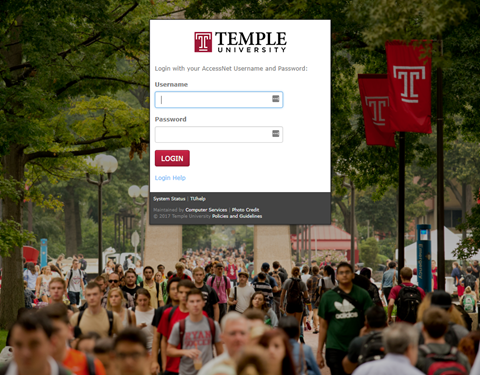 The site will have a more streamlined design consisting of a larger font, new color scheme and red tabs across the top. In addition, there will be a new login page and a few changes in functionality. A preview of the updated site appears below:
Finally, there will also be a few functionality changes:
The MyPortal tab will be replaced by the Home tab.
Bookmarks and TUlinks will appear together on the lower-left portion of the Home tab screen.
The MyTab area will enable you to add/remove RSS feeds.
You will no longer be able to change the layout or add/remove channels, columns or tabs.
There will be a Help tab instead of the question mark (?) symbol.
The Banner - INB link under TUapplications will be renamed Banner Admin (Banner INB).